How Hire Things works
For customers... | For hire suppliers...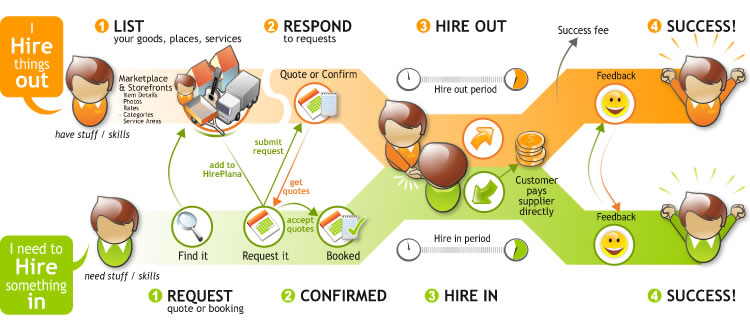 To hire things in - for quotes, bookings, enquiries - use the HirePlana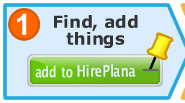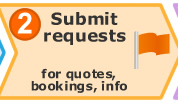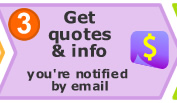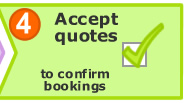 1. Find and Add Things to your HirePlana
Browse around categories or use the search.



You can limit browsing and searching to a region or city in New Zealand, or view things anywhere in New Zealand.
The default will show all things in your selected area, and things that can be delivered to that location. You can limit your search/browse to include only local suppliers if you want to keep delivery costs down or want to collect things yourself.




View the details of what you are interested in, and view the hire rates.
Add Things to your HirePlana
Add things to your current HirePlana


If you are logged-in you can create new HirePlanas for new events / parties / projects, etc



View your HirePlana


Give it a title if you want
Make sure you set the start and end dates of your event, project, or adventure.
You can save at any time (this doesn't submit any new requests/items, but will recalculate any totals if you have changed quantities or dates)



Your items will be grouped by the hire supplier they are coming from

Adjust any quantities for items and save/update to refresh totals


Submit your HirePlana requests - for quotes, bookings, more info
Submit your requests for quotes and bookings, or just for more info


If you are not logged in, you'll be asked to do so, or create a new log-in

This is so you can track and manage your quotes and bookings. There is no cost or obligations from registration.

You'll be asked to confirm the request and provide your contact details.
You can here provide any aditional notes and information about what you are wanting. This will be sent to the hire suppliers with your request.
Requested items will show up as flagged




The hire suppliers gets your request and will respond

They may respond with notes / questions on your enquiry
They will submit a quote and confirm availability of the items you have requested, and any other notes you have added.


Receive Quotes
You receive quotes/confirmation of availability

You will be notified by email. Click on the link in the email to go to your HirePlana and see the quotes
You'll also see an indication in your Quick Links panel on the left

Quotes will show up as a light purple with a $ symbol

Any items not yet included in the quote for any reason will show up still as unrequested. You can accept the partial quote, or wait for a complete quote.


Accept Quotes to confirm your hire booking
Accept quotes to confirm bookings


Accepting the quote will confirm these requests into a booking



NOTE:Declining the quote will cancel all the requests. Request changes instead.



Request changes at any time. If you want some changes to your requests, a quote, or a booking:

Send the supplier a message
Add or remove items. You can see what else this supplier has by looking in their storefront
Change quantities and dates, and then save/update your request . This will notify the supplier immediately.



Enjoy your hire

Once a booking is confirmed (quote accepted), the hire supplier's full contact details are visible on the bookiing so you can sort out any finer details if necessary
You can view the status of your booking at any time, and may change or cancel the booking
The hire begins when you collect the goods, or the hire provider delivers them to you
The hire ends when you return the goods, or the hire provider collects them from you
You pay the hire supplier directly for the cost of the hire
You place feedback on the hire provider and the goods, places, or services you hired
Got goods, places, or services for hire or renting out?
Why list on Hire Things?
After you have registered, you can list specific products, goods, places, and services you have for hire, rent, lease or let.

Make sure you profile is up to date, with a description of your business or yourself, and your contact details
You may include a detailed description, photos, and even bond/deposit requirements.
You define the hire rates and optionally the quantity you have on offer.

Currently you can define any or all of theses:

Hourly rate, 4-hour rate, daily rate, week rate, and month rate

You can indicate if this is just a single item, or if you have a set number of these available, or if you just have lots

Any special rates, discounts, or terms can be entered in the description or terms.

Customers can view your listing's details and can submit a quote or booking request

requests will include the dates, quantity, and any other requirements they have.
The Hire Things website will calculate an estimated cost for the booking for you and the customer
You are notified by email of the new request, and upon viewing may confirm the booking or respond with a firmer quote.

Once a booking is confirmed, the contact details of the customer are shown to you on the booking, and vice versa to the customer, so you can both work out any final details.
The customer pays you directly for the hire.
Once the hire period is completed, or after 2 weeks if it is a longer hire, we will deduct a success fee from your Hire Things account
You can download our hire supplier's brief-sheet here about how you can be a part of the Hire Things marketplace.